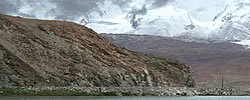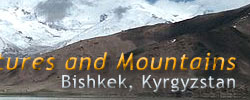 We propose you to have a stay in the yurt in the Kirghize mountains, where you can experience the nomadic Kirghize lifestyle: accommodate in the yurts, travel on foot or on horseback, accompanied by a shepherd guide.
This stay will allow you to discover the philosophy of the ancestoral life of the nomadic people: a life without permanent buildings, respecting the natural environment. An ancient Kirghize proverb said: "Each human being must watch over the freedom of nature, by leaving the place where he lived just as it used to be before his coming." This lifestyle has perfect harmony with the mountains and all kinds of living beings, in order that descendants could make the most of the same natural conditions as their ancestors, marking an enormous difference with the "civilized" world, where the aim has been rather to leave for their descendants beautiful cities made to the detriment of the nature.
The program:
You can choose and participate in activities according to your interest: producing dairy products, learning how to conduct the herd, taking care of animals, putting up a yurt... hiking on foot and on horseback, fishing…. You will learn the secrets of traditional cuisine, bread making. You will leave with unforgettable memories of the stay.
The yurtes are set up near a mountain lake or a river, in the region of At-Bashi, not far from the Chinese border.
The duration of the stay is from one week to three weeks. The prices are as follows:
- 1 week – 500 Euros/650 USD /person (adult)
- 2 weeks – 750 Euros/1000 USD /person (adult)
- 3 weeks – 1000 Euros/1300 USD /person (adult)
The price includes:
1) Transfer from airport to Bichkek and from Bichkek to the airport on departure day
2) One night stay in Bichkek with the local people in their own homes in a comfortable apartment on the arrival and departure days
3) Transfer from Bichkek to At Bachi and vice-versa
4) 3 hot meals per day
5) Accompaniment by a guide and horses for hiking
6) Accommodation in yurt on the mountains
7) Guided touring from Bishkek and from Tash-Rabat

Rubriques du site : Asie centrale, Bichkek,Kirghizie, Kyrgyzstan, Kirghizistan, voyages, randonnee, randonnees, trek, trekking, sejour, séjours en Yourte, vente de Yourte, Acheter une yourte, nepal trekking au nepal, sejours, decouverte, decouvertes programmes, aventure, montagnes, glaciers, yourtes, yourte steppes, nomades, cheval, rafting, Tien Shan, Monts Celestes, la route de la soie,, travel, discover, adventure, adventures, program, mountain mountains, yurt, yurts, steppes, nomades, gauloises, raid, horse, rafting, Tien Shan, Celestian Mountains, Mounts, the silk road, central Asie, Bishkek, pic, Issyk Kul, Naryn, Osh, Tash Rabat, Karakol, explore, extreme, forest, foret, forets, extreme, Burana, Kara Balta, Susamyr, Kekemeren, Chaek, Song Kul, Song Koul, Kochkor, Cholpon Ata, Khan Tengri, Pobeda, Mustag Ata, Mustaghata, Mustagata, Chine, China, Kashgar, Torugart, Pass, col, Central Asia,Heliski, Ski Hélicoptère, Heliboarding, Freeride, Ski extreme, tourisme équitable, écotourisme, trekking amérique du sud, chili, voyage dans les andes, séjours en Yourte, sejour en yourte, séjour en yourte, voyage en asie centrale, heliskiing